Preventing Problems

Creating Masterpieces

Designing Excellence
Our facilities produce
unmatched quality
in-house build and assembly
In-house finishing facilities
Almost 50,000 sq. ft of work space
Technology to handle any design/project
Creating custom work on time and on budget, every time.
Our process has proven to be second to none. We work in both small and large scale projects but bring a marquis level of experience and excellence to each project we take on. We work consistently with contractors and architects to produce the following:
Our people make us better than the rest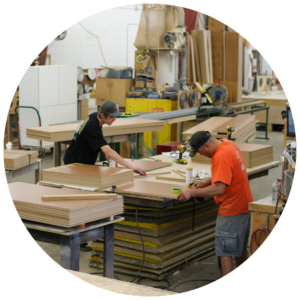 Dedicated Initiative

Our team works closely with our clients to understand every aspect of the project. Our dedication allows us see each project through to completion.
Problem Solving
We anticipate the need and solve the problem before it even appears. Our years of experience and knowledge bring an approach that is second to none.
Expert Craftsman

Our clients demand the best and the best is what we deliver every time. We pride ourselves on our expert teams not just producing good work, but doing it on time.
New Dining and education facilities at one of Southern California's most elite private boarding schools. This…
An expansive tribal resort and casino expansion including a 14 story hotel with over 500 guest…
An upscale resort on an exclusive oceanfront stretch of Montecito with 122 guest rooms, 48 suites,…
A Winning Process for Expert Craftsmanship
1. Initial Collaboration
We begin by going through any preliminary design, formal budget, value engineering strategies,, and then make sure everything is ready to begin.
2. Detailed Proposal
You'll receive a fully detailed proposal and list-out that will provide a full understanding of your project's scope and inclusions.
3. Seamless Teamwork
Your dedicated project management team will work directly with you through the pre-construction phase of submittals, scheduling, and production planning.
4. Custom Manufacturing
We're driven by your project's schedule and unique specifications. We utilize our network of vendors and suppliers and work in tandem with our manufacturing facility to bring your project to life.
5. Expert Installation
Your dedicated team of installation professionals make sure everything is right and puts it into place. These carpenters bring your project to a successful completion.